We are pleased to announce the finalists for the Inspiration in HR 2021 Award.
To reach the shortlist organisations will have demonstrated that they are quality-focused and have pride in looking after and developing their workforce. You will see a partnership in HR and operations management. Shortlisted companies see their HR function as giving them a competitive edge, they clearly demonstrate going above and beyond any current standards as you have to be a quality provider to make the Inspiration in HR shortlist.
A few words from several of our Judges to underline the quality of this year's entries:
It has been an honour to be involved in the judging process this year and to assess the nominated entrants for this prestigious HR Award sponsored by SSR.  As it was my first involvement as a judge, I would like to commend those who have been put forward for their diligence, initiative, and innovation. All have been noticeable in their own different ways and my congratulations, in due course, to the successful winner. 
I was delighted to be asked to judge the Inspiration in HR Awards 2021 and was impressed with all the nominations.  It was a difficult task to differentiate between the entries, especially their reaction to reaching out to their workforce during the COVID-19 lockdown and mental health .  There are some excellent HR initiatives which have been introduced which will benefit the companies both now and in the future.
Please find attached my scoring matrix for this year's Inspiration in HR Award. I enjoyed reading all the entries. Great content, and a good mix as well. Some focusing on the response to COVID-19 recovery , mental health , others on training and the more generalist HR approach with added dimensions.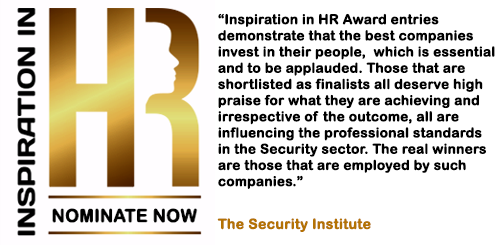 The Inspiration in HR Award provides these professionals with the recognition they so richly deserve. The winner will be presented with their prize during the Security & Fire IFSEC Global at The London Hilton Hotel, Park Lane on Tuesday 23rd November 2021. The winners will be profiled in a leading industry publication.
For more information: adam@beyondandabove.co.uk​