The annual Inspiration in HR Award nomination is now closed!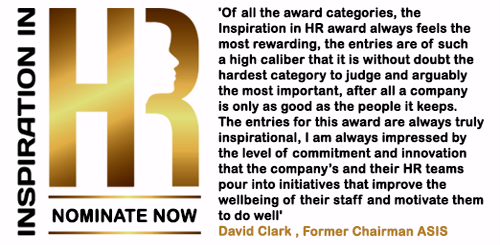 The award is to recognise the work of Human Resources professionals. Now in its 13th year, the award is open to either individuals or organisations and runs with the support of IFSEC. Entries can be self-nominated; judges are looking for best practice in Human Resource Management where an organisation recognises that HR is a business enabler and partner in managing a successful business.
We are proud to announce the shortlist for 2019:
Axis Group Integrated Services
Wilson James
Victoria Paine of Axis Communications
To reach the shortlist organisations will have demonstrated that they are quality focused and have a pride in looking after and developing their workforce.  You will see a partnership in HR and operations management. Shortlisted companies see their HR function as giving them a competitive edge, they clearly demonstrate going above and beyond any current standards as you have to be a quality provider to make the Inspiration in HR shortlist.
For information on how you can enter next year, simply open the below entry form and follow the instructions.
Click here to download the flyer and entry form
Who won the award last year and why?
Jeff Johnson Director of SSR Personnel, with Vicky Paine HR Director of AXIS Communications with James Nisbett the evening host . Jeff then caught up with Vicky and asked her
Why was winning the Inspiration in HR Award special to AXIS Communications ?
At Axis Communications we believe in 'Innovation for a smarter, safer world'. Technology should be an enabler that improves peoples' lives, however, this cannot be achieved without developing and sustaining a workplace culture that has these values embedded within it. This award reflects the dedication and passion that Axis devote to our working environment and people.
Do you see this award as making a statement on the care that AXIS Communications provides to both staff and clients ?
The award cements the fact that Axis has a great organisational culture which truly values employees and offers its customers a true long term and mutually beneficial partnership. As a business we  invest heavily in supporting and developing our employees to maintain a happy and engaged workforce. The award makes a real statement on our commitment to our culture and values as an organisation.  At AXIS we are proud to be part of an industry that achieves so much in helping to create a smarter and safer world. We believe that the SFEA is an excellent opportunity for the industry to reflect on the great things that have been achieved, whilst also looking forward to continuing innovation and excellence. As in previous years it was humbling to see so many great nominees and winners. The atmosphere at the event was very positive and a great time was had by all.
Thank you to everybody that contributed to the event, please feel free to share below.