We are pleased to announce the shortlisted entries for the Inspiration in HR 2020 Award. A few words from several of our Judges to underline the quality of this year's entries.
Rick Mounfield CEO the Security Institute: Each nomination has enormous merit and should be applauded. I know that the HR departments are valued internally because of the care and passion that is evident in each nomination. Every entry is written with pride. This was a really hard exercise in judging, but it gives me real hope for raising the sector to a better and more respected place in society.
Guy Mathias the Security Commonwealth: It has been an honour to be involved in the judging process this year and to assess the nominated entrants for this prestigious HR Award sponsored by SSR.  As it was my first involvement as a judge, I would like to commend those who have been put forward for their diligence, initiative, and innovation. All have been noticeable in their own different ways and my congratulations, in due course, to the successful winner. 
Lynda Moore ACS Pacesetters: I was delighted to be asked to judge the Inspiration in HR Awards 2020 and was impressed with all the nominations.  It was a difficult task to differentiate between the entries, especially their reaction to reaching out to their workforce during the COVID-19 lockdown.  There are some excellent HR initiatives which have been introduced which will benefit the companies both now and in the future.
Brian Sims Editor Security Matters: Please find attached my scoring matrix for this year's Inspiration in HR Award. I enjoyed reading all the entries. Great content, and a good mix as well. Some focusing on the response to COVID-19, others on training and the more generalist HR approach with added dimensions..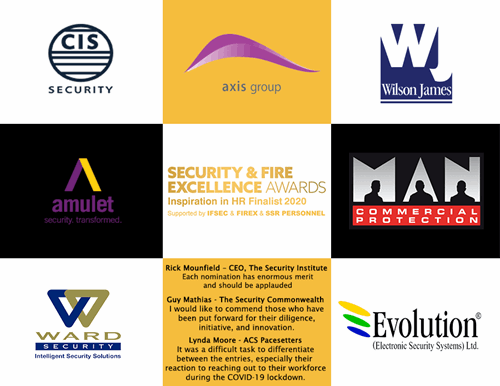 2020 Finalists:
Tracey Cheung- Amulet
Axis Security
CIS Security
Louise Gough - Evolution
MAN Security
Ward Security
Wilson James
The winner will be presented with their prize during the Security & Fire IFSEC Global at the London Hilton Hotel, Park Lane on Wednesday 25th November 2020.