The SSR® Personnel & Executive Profiles salary survey supported by ASIS International which has now re-opened for 2021, reviews more than 12,000 security professionals across the finance sector, manufacturing, extractives, FMCG and logistics.
To be part click on (embedded survey) or via the attached banner. You can register to be entered into our free draw and can choose to have a donation made to the ASIS Foundation in your name, sponsored by SSR Personnel or a full entry pass to the in-person ASIS International conference in Prague, CZ on the 22-24 May 2022, a highly anticipated event.
Click on the below graphic to take the survey.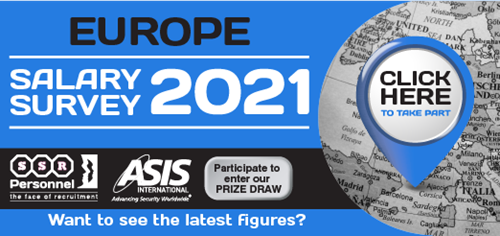 The results of the survey will be available on the 6th of May 2021 during the ASIS Europe From Risk to Resilience. Offering multiple tracks of valuable learning opportunities as well as networking and connection sessions. With 50+ sessions planned, featuring more than 60 expert speakers in several formats, as well as 8 hours of dedicated networking time, ASIS Europe 2021 is the unmissable gathering this year for security professionals.