Deadline for nominations extended to 1st September 2020.
Have you witnessed any act of bravery or danger encountered by an individual in assisting other? Are you aware of an individual who has made a major contribution to the protection of people and their liberty? Have you encountered an innovative project that protects people and/or property?
If the answer is yes, then we want you to share that information with us.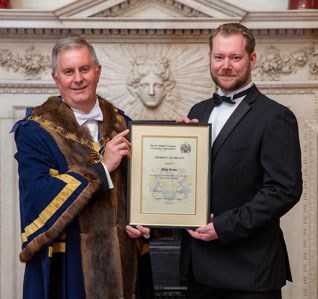 (WCoSP Master Michael Barley and 2019 award winner City of London Police Detective Sergeant Joby Reeve)
This is your opportunity to nominate people or organisations who are worthy of receiving this unique award. The Sheriffs' Award is a national award for bravery, celebrating people who have contributed to safeguarding our "people, property or our liberty." The award was instituted in 2006 by the Worshipful Company of Security Professionals and is awarded annually by the Sheriffs' of the City of London. The search for nominations begins in February each year at the Old Bailey during a ceremony presided over by the Sheriffs'. Later in the year the Sheriffs select the principal recipient and a deserving list of commendations.
Nominations will be judged by the Sheriffs' of the City of London in late August in order that the recipients can receive their awards at our Annual Dinner and Common Hall. The Award is a highly prestigious one with the winner receiving a trophy, a framed certificate and a cheque for £2,500. By order of the Sheriffs' their names are permanently inscribed on an Honours Board and in a Book of Honour which are on permanent display at the Central Criminal Court - 'The Old Bailey'.
Nominations are sought from across the United Kingdom and are open to members of the public as well as members of the Emergency Services, the Armed Forces and people employed in the Security Industry.